Telford's Lounge Your Smoking Home Away from Home!

Open Seatting:
There was a time when enjoying a fine cigar or pipe in public was both accepted and legal.  Those days, unfortunately, are long gone, except at Telford's Pipe & Cigar where the open and public enjoyment of tobacco products is still legal and not only accepted but wholeheartedly endorsed and encouraged.
Throughout the shop and on the covered patio you will find comfortable seating where you can sit back, relax, and indulge in the civilized pursuit of enjoying fine tobacco. 
Complimentary WiFi:
If you need a break from the office but want to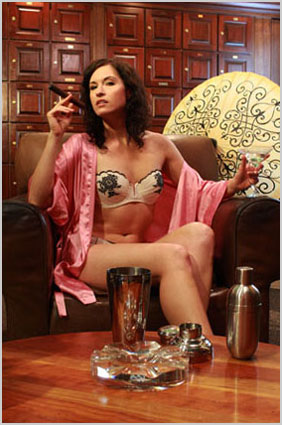 stay in touch, Telford's Pipe & Cigar offers free WiFi throughout the premises.  So whether you are sitting on the patio smoking your calabash while researching your novel, or you're sitting at the round table with a backdrop of elegant humidor cases filled with premium cigars as you Skype your friends around the world, we've got you covered.
The Member's Lounge:
Telford's Pipe & Cigar has one of the most comfortable and accessible member's smoking lounge in the country, perhaps the world.  Overstuffed chairs, wide screen High Def television, complimentary freshly brewed coffee, backgammon, and a wide range of conversation is what you will find in the Member's Lounge.  For details of how to become a member of Telford's Member's Lounge visit the Cabinet Membership page.
The Mural in the Lounge. Come in and see it for yourself.