Telford's Lounge Your Smoking Home Away from Home!

"Dear telford staff- a couple of weeks ago I came to your shop before a trip to Africa. I had learned that the Himba, a nomadic pastoral group of indigenous people in Namibia who I would be meeting with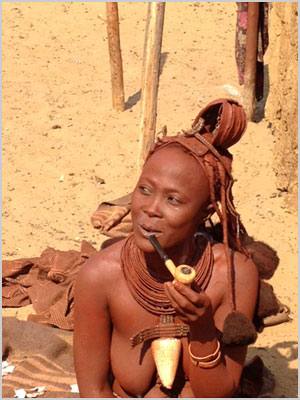 loved tobacco so I wanted to bring some tobacco as a gift. You were so helpful when I came in and you also brilliantly suggested that I buy two corncob pipes. The gift was a huge hit-and resulted in our spending 3 hours with them. I have fabulous photos of them with your tobacco and pipes and will make some copies for you but wanted to send you this photo of a very happy woman to let you know you were in my thoughts with gratitude while I was there. The tobacco opened kinship immediately - they LOVED the smell and sweetness of the tobacco that you sold me ( 3 bags) as well as the American spirit ( I think this was the name) rolling tobacco. Thank you again and I will bring you some photos for your shop. All best"
Diana

Diana Cohn
Executive Director
Panta Rhea Foundation
1505 Bridgeway suite 127
Sausalito, CA 94965
www.pantarhea.org